Aloha!
Yesterday I had the pleasure of teaching PlayBuilders' very first Masterclass at Leeward Community College. I had been wanting to do a class like this since PlayBuilders first became incorporated over two years ago, but we have been so busy organizing ourselves, fund raising and producing shows, that it just became something that "we'd get around to."
Fortunately, what we offered yesterday is part of an agreement we made with Leeward Community College when we negotiated our terms in becoming their "in-house" resident theater company. It is something Kemule DeMovell requested right away and as I said, it was also something that we also felt needed to be done. Great minds think alike, right? Sometimes these free classes will only be offered to Leeward students, and other times, like yesterday, the community will be invited as well.
The 4 hour class went very quickly and was based on material I learned when I attended the Cornerstone Institute in 2010 as well as material I have gathered while doing community-based work with PlayBuilders. The students who attended this class were comprised of folks I have worked with in the past but there were also several new faces. I especially enjoyed meeting Paul Kuehn, one of the Deans of Leeward Community College. He was a terrific addition to the class and made me feel very welcomed and at ease. Kemuel DeMoville was on hand to make sure all went smoothly. If this is any indication of what the future holds for us at Leeward Community College, we can breathe easy.
Attendees yesterday included: Kahana Ho, Robert Yokoyama, Patrick Chee, Kristin Hughes, Allan Y. Okubo, Robyn Ocepek, Jamie McQuat, Paul Kuehn, Christie Tomlin Knoll, Kemuel DeMoville, Jesse Bowes, Troy Apostol, and Daniel Akiyama.
All of the students were just terrific. They listened attentively and added to the discussion while I showed slides and videos of past productions. They "brought it" when we began to doing exercises such as "cultural mapping" and "Interview."
My big "ah-ha" moment of the day is when I gave them only 15 minutes to interview one another and then asked them to do a monologue based on their interview. What they did wowed me! There was beautiful imagery in their words. They had listened with their mind, body and spirit. I kept wondering how they could have possibly learned that much in 15 minutes. With skills and tools like that, this group of people could devise a full show in less than 24 hours. It was really impressive.
In addition to the class, we took the opportunity to give Robert Yokoyama the Hawaii State Theatre Council's Po'okela Award for Excellence in Service Award. This year Robert helped playwright, Mark Tjarks interview members of the homeless community at the Institute of Human Services for his play, "On (and Off) the Streets of Honolulu."
Aloha,
Terri Madden
Founder and Artistic Director,
PlayBuilders of Hawai'i Theatre Company
P.S. Here are photos Robyn Ocepek shot yesterday. Enjoy.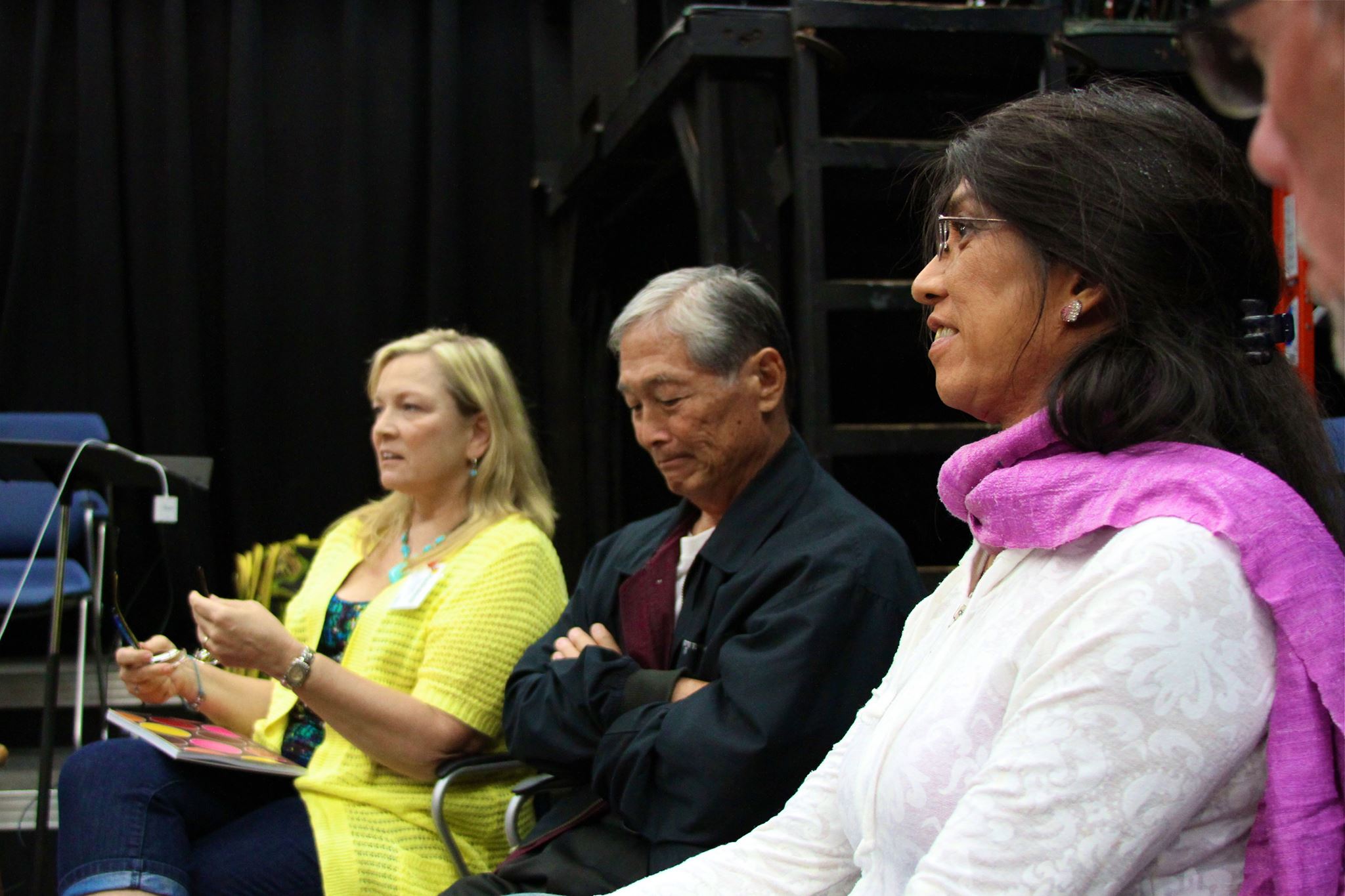 P.P.S. I just got this really nice email from Troy Apostal who attended the Masterclass and is directing our next two plays. Please read on…

"…It was a really informative session, Terri. And there was some really great, sincere discussion from everyone on what it takes to create this kind of community based theatre; the sensitivity, collaboration, and commitment-to-keeping-things-pono involved. It really brought me back to the days of Dr. Paul Cravath and Hawaiian Style Theatre (In that very same Lab Theatre! Wonderful chicken skin nostalgia!), and how art can be used to empower and strengthen communities. Kudos."